Younger Guests
Family Fun Time
Piglet Family Funtime is fantastic fun for all the family, with lots of excitement, games and activities, such as Circus Skills Workshops, Pirate Treasure Hunts, Family Olympics, Teddy Bear Picnics, Prize Bingo, Eye Spy Wildlife and a chance to see one of our Piglets BUSTER • SALLY • HUEY.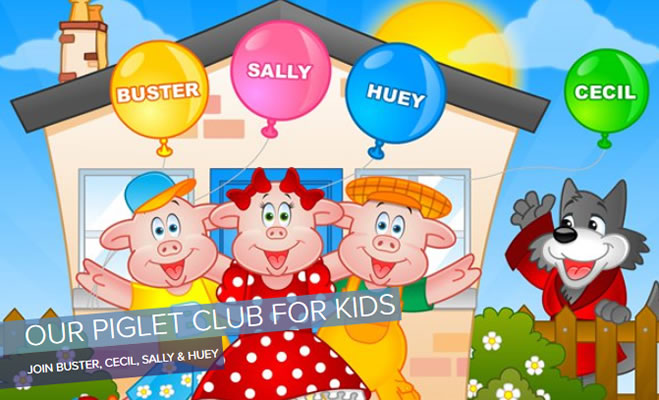 Piglet Club
(For the 1 – 12 year olds)
The Piglet Club is the grooviest and coolest place to be for the younger guests while they are on holiday. This year the Piglet club is bigger, brighter and better than ever before, so don't miss out and have a groovy time!
Tiny Trotters
(For the under 5's)
During high season, the Under 5's get their own club. An interactive entertainment package especially geared for the youngest of our guests.
When to join in!
The Piglet Club has morning sessions, (including Boogie with Buster) afternoon family sessions and evening sessions (High Season Only).
Full details of the activities are available during your stay and can be found at Reception on your arrival.
Piglet Funtime – Evenings in RJ's
Bigger, bolder and brighter than ever, with more games, mess and madcap fun. Who will be victorious? The Trotters or The Snouts? With competitions, lots of prizes and the chance to be on the winning team, every night will be filled with fun and laughter for the boys and girls. Plus, amazing shows, crazy games shows, DJ Huey's disco time, Piglets got talent and cheese and sign.
In Low Season the Piglet Club and Tiny Trotters only operates evenings and Saturday and Sunday mornings.
Please note: Children's activities do not replace parental supervision or responsibilities. Some activities may incur an additional charge. Under 8s must be accompanied by an adult.